Search
Image
Groupe paragraphe
Champs à renseigner
Texte
Are you searching for soybean seeds for 2022?
You are on right place!



Farmers across Serbia are sowing soybean of maturity group 1, which is the most suitable maturity group in arable area of Serbia, and our portfolio contain two varieties. 
ES PALLADOR – When You want to be soybean King!
ES Pallador is a soybean that has been present on our market for 5 years, and in this short time it has become very recognizable for its lanceolate leaf shape, but above all for its high yield, because a good voice can be heard far away!
The specifics that accompany this variety are exceptional branching in somewhat rarer assemblies - it gives 3-4 branches that are rich in pods. It has a slightly smaller grain (the weight of a thousand grains is about 165 g), but that is why you can often find 4 grains in one pod. The varietal characteristics that will always appear is the high position of the first pod at about 18 cm, which facilitates the harvest. You can expect ripening about 135-140 days after germination. It should be noted that the number of days until ripening mostly depends on the sum of temperatures.
The sowing norm is 450,000 grains / ha.
Image standard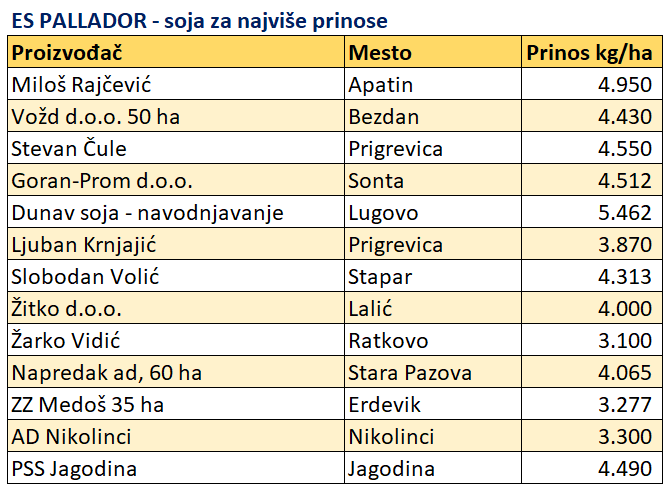 Citation
AVRIL – New soybean variety, medium maturity group
Texte
Soybean from the most desirable maturity group - medium early vegetation with high yield potential. Avril has uniform maturation and pods tolerant to shattering. Variety is short growth because of short space between internods. Variety has intensive lateral branching with pods. Sowing density 450,000 kernels/ha.
Image standard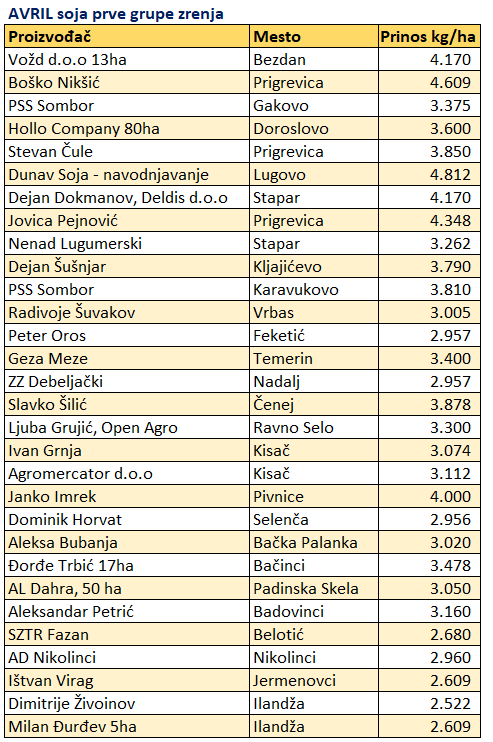 Texte
N-MAX technology seeds inoculation
Soja kao leguminoza ima mogućnost vezivanja azota iz vazduha. To vezivanje se dešava uz pomoć kvržičnih bakterija. Kvržične bakterije moramo nanositi na seme kako bi se stvorila dovoljna populacija ovih bakterija u zemljištu nakon setve. Neophodno je pre setve uraditi inokulaciju semena svaki put kada soja dolazi u plodored.
Kada odaberete  N-MAX tehnologiju ovo je već sve urađeno za vas. To znači da kada džak soje dođe do vas, u našem doradnom centru  smo već uradili profesionalni tretman kvržičnim bakterijama. Visoko kvalitetne azotofiksirajuće bakterije uz nosač mogu preživeti na semenu i 120 dana pre setve.
Sada kada znate glavne karakteristike sorti ES Pallador i Avril i kada ste saznali za prednosti N-MAX tehnologije, sigurni smo da će ove sorte pronaći svoje mesto na vašim njivama naredne sezone.
Za još više detalja i informacija o Axereal sortimentu soje pogledajte NOVI katalog, ili pozovite našeg predstavnika prodaje za vaš region.