Search
Serbia
Champs à renseigner
Texte
Axereal Serbia, French Agri-bussines cooperative in Serbia since 2008.  
Axereal Serbia is part of the French agribusiness cooperative and entered Serbia in 2008 with offices in Novi Sad following the development of Axereal in the zone. 
Our mission is to bring new varieties of French genetic, which are offering quality and performing highest yields. The main goals of our business policy is sustainable cereals production, continuous service development and thanks to trade, guarantee of long-term satisfaction for our partners.  
We created our slogan "Your reliable partner" after 10 years of existence in Serbia. Many business partners and associates are developing with us, thanks to an honest and reliable business relationship, Axereal Serbia is what it is today. 
Champs à renseigner
Image standard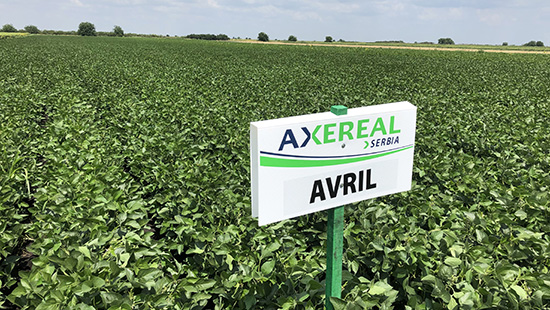 Champs à renseigner
Texte
Agronomic support, advisory service: from sowing to harvest  
Through many years of work of our professional engineers, careful variety selection, we bring to the Serbian market new portfolio of wheat, barley, soybeans, corn, sunflower and oilseed rape - the main field crops. The goal is to offer our producers varieties that suit our climatic and production conditions, that give above-average results in the harvest and that will meet quality expectations. Our agronomic experts are in the field every day, visiting the crops and giving professional support to the final agricultural producers.  
Malting barley contracting  
The organization of malting barley production for the needs of our malting factories s in Croatia and Hungary is an indicator of a successful business model in favor of the satisfaction of our producers. The conditions of contracting production for malting barley are known before concluding the contract. Based on the subcontract agreement, we supply our subcontractors with quality seeds, plant protection products, fertilizers, and advisory support. A team of professional agricultural engineers monitors crops during the growing season and gives producers expert advice and instructions from sowing to harvesting barley. 
Our goal is to continue the good tradition and create an even stronger partnership, to the satisfaction of all parties involved. 
Axereal Central Europe
Champs à renseigner
Texte
Axereal Central Europe was born in 2015 following the development of Axereal in the area. It covers 6 countries: Croatia, Hungary, Serbia, Romania, Bulgaria and Slovakia. With offices in each country, a seed multiplication farm, silos in Croatia, Hungary and Serbia, Axereal is well established in the local territory.
To satisfy the European cereal market needs, Axereal takes part in the entire grain chain from the selection and production of seeds to the selling of grain to agribusiness. Our activities are based on customer needs and are harmonized with our production to offer appropriate seeds and other inputs.
Following pedo-climatic situations, each country of the zone is selling specific seeds, after being tested locally, to ensure quality and high yields for the partners.  
Image standard